Libraries are collections of blocks that enhance MicroBlocks with additional functionality and allow MicroBlocks to interface to a wide variety of external hardware devices.
MicroBlocks comes bundled with dozens of libraries, but users can also develop their own libraries. To learn how, see Creating A New Library.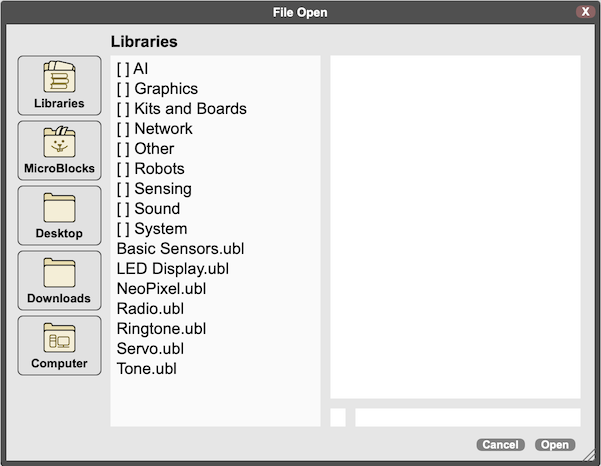 The picture above shows the library import dialog that appears when the Libraries + button is clicked. This dialog lists all the libraries that come bundled with the MicroBlocks IDE.
The entries starting with [ ] are folders for various library categories. These folders contain dozens of libraries, most of them connected with specific of hardware and many of them contributed by the MicroBlocks community. Some of those libraries will be described in separate sections below.
There are also some individual library listed below the folders. Those frequently used libraries are described below.
Many libraries use features that are not available on all boards or require external hardware devices. For example, the Radio library works only on boards with a Nordic nRF5x processor, while the Servo library requires an external servo motor. When using a library, make sure you have the required feature or hardware.
Libraries can be loaded regardless of the actual hardware. That allows you to write code for a devices that are not currently connected. Some blocks will display error messages if they are run without the necessary hardware, others will simply have no visible effect.
This section describes the most frequently used libraries. These libraries enable users to access and control sensors and hardware features found built into the most popular microcontrollers. For example, here are the hardware features of the micro:bit v2: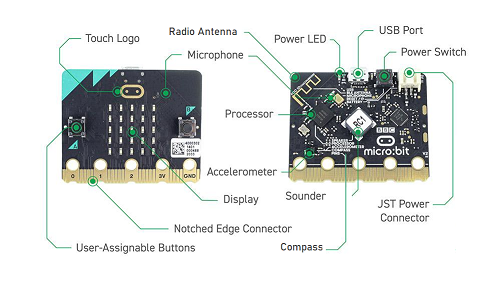 Basic Sensors
LED Display
NeoPixel
Radio
Servo
Tone
Ringtone